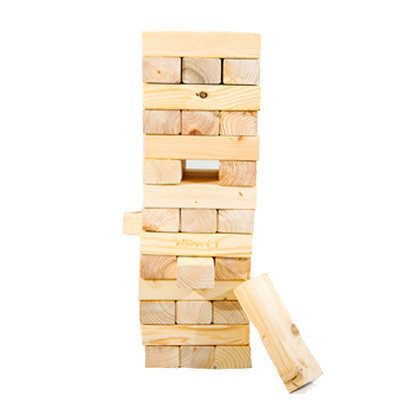 Giant Jenga
Setup Area: 5Wx5Lx7H
Age Group: 3+




Giant Lawn Jenga is a wooden 42 piece graffiti styled oversized Jenga set. When set up this Jenga set stands almost 4 ft tall, and when played can reach over 6' tall. This large 42(+1 Table) piece set weighs 40 lbs.
Jenga is played by removing one block from any level (except the one beneath the incomplete top level) of the tower, and placing it on the top level. Only one hand can be used. Blocks may be bumped to find a loose block that will not disturb the rest of the tower. Any block that is moved out of place must be returned to its original location before removing another block. The turn ends when the next person to move touches the tower or after ten seconds, whichever occurs first.
The game ends when the tower falls in any way, in other words, any piece falls from the tower, other than the piece being knocked out to move to the top. The winner is the last person to successfully remove and place a block.